Division Information
Address
2001 College Dr. Lake Havasu City AZ 86403
Fax:(928)453-0739
TBD
Judicial Administrative Assistance
Lacey
Email
commissionergregory@mohavecourts.com
Commissioner Court - Honorable Kenneth L. Gregory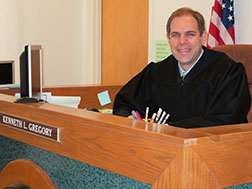 Notice 
COVID-19 POLICY THROUGH APRIL 17, 2020
Kenneth L. Gregory
Judge Pro Tempore
In an effort to help stop the spread of coronavirus, Chief Justice Brutinel recently ordered proceedings in Arizona courts be conducted telephonically or by videoconferencing to the fullest extent possible. This Court adopts the following policy as its policy for any upcoming matters, at least through April 17, 2020:
Non-Evidentiary Proceedings (status/resolution conferences, trial scheduling/mgt, etc.):
Telephonic appearances are required for all non-evidentiary proceedings. The Plaintiff or Petitioner in each case shall arrange the conference call by calling the opposing counsel and/or parties in advance of any scheduled proceeding, and then placing that conference call to the Court's judicial assistant, Lacey Stewart, at (928) 453-0739.
You do not have to file any requests with the Court to appear by telephone, just call immediately before the scheduled proceeding.
Evidentiary Proceedings (trials and all other evidentiary proceedings):
The technology for video appearances in civil and family court cases is not available. Also, it is very difficult to conduct evidentiary proceedings by phone. Parties frequently talk over each other, call quality can vary, and the Court's record of the proceedings may be compromised. Also, the Court loses the benefit of observing in-person testimony.
For all evidentiary hearings, attorneys and parties are asked to arrange for any minor, non-essential witnesses to appear by telephone by calling the Court's judicial assistant at the time designated for their testimony. Also, the parties shall have available at the hearing a phone number at which the witness may be reached.
On court property, all parties, witnesses and counsel shall maintain appropriate social distancing and stay at least six feet apart from each other. They shall also respect the social distance of all court personnel. Parties are encouraged to avoid bringing any family members or other persons to court proceedings, unless they are providing testimony.
Any party, attorney or essential witness who is exhibiting signs of illness from COVID-19, or who has been exposed to someone with signs, shall immediately notify the Court in writing and shall request continuance of the evidentiary proceeding.
If any attorneys or parties have any other concerns about appearing in-person, they may file an emergency request to appear telephonically, or to continue the proceeding to a later date and time, and the Court will make determinations on a case-by-case basis.